MoneyWorks® is a very powerful and reliable accounting software and business information system for Mac and Windows. You name it, MoneyWorks® does it!
Grant Cowie and the team at Cognito Software Ltd support over 30,000 businesses around the world with their MoneyWorks product range www.cognito.co.nz
MoneyWorks offers:

Multi-dimensional Chart of Accounts Structure: With MoneyWorks you can structure your account any way you want and dice and slice it for reporting and enquiry purposes (augmented by the categories and accountants parallel chart).
Department/Cost Centre Accounting: MoneyWorks provides true cost centre accounting in its General Ledger (GL) using the Department feature. Click on this link to download the document about MoneyWorks Cost Centres 
Ostendo integrates with MoneyWorks® for Windows and Mac. The interface is completely seamless keeping Ostendo and Moneyworks up to date and insync.
Special Note for Mac Users:- 
Ostendo is a Windows application. You can install Ostendo on a Microsoft Windows Server or PC and run Parallels on your Mac clients.
Or setup virtualization/remote workstations eg terminal services, Citrix, etc.
If you would like to ask specific questions about how Ostendo Operations Software interfaces with MoneyWorks,
here are the contact details for a MoneyWorks Professional Partner who uses MoneyWorks with Ostendo in their own business: 
Hedway
---
PO Box 1861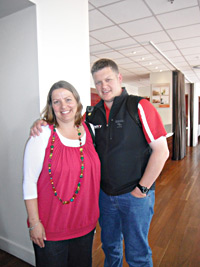 Christchurch
New Zealand
Phone: 0800 hedway (0800 433 929)
Fax: +64 3 281 8404
Mobile: +64 272 496 626
Email: reon@hedway.co.nz
Website: www.hedway.co.nz
Contact: Reon and Tanya Hulme
Client Count:
50 - 100
Users Count:
200 - 500
Whose on the bus? Hedway is on the bus to your business right now. Hedway is a completely mobile travelling computer software one stop shop assisting small to medium size businesses all over the South Island of New Zealand with MoneyWorks and Ostendo Operations Software. "We come to you", this is our key point of difference.