Every business relies on service providers to support their day-to-day operations. For many companies, this dependency can have a significant impact on their business if one or more of their service providers fail to provide the level of service that they need.
Therefore Service Level Agreements (SLA) is often mandated by such organisations.  They seek out service providers who can support them effectively in ensuring minimal downtime.  When issuing Request for Proposals to prospective service providers, they often specify their Service Level requirements. 
Examples of SLA requirements are:
For Critical requests, we need your service technician to be Onsite within one hour, and the problem resolved within 3 hours.  SLA target: 99%
For Urgent requests, we need your service technician to be Onsite within three hours and the problem resolved within 8 hours. SLA target: 95%
For Normal requests, we need your service person to be Onsite within 8 hours and problem resolution within 24 hours. SLA target: 100%
Your business system must be able to record and track SLA measurements in order for your business to be 'in the game'. 
Every customer may have differing standards and terminology when spelling out their SLA requirements. Software programs like Ostendo allows you to cater for a variety of needs as you are not restricted to just one SLA definition. You can define as many SLA requirements as you need.
In negotiating SLA requirements with a customer, you must know your service capability and ensure that you can deliver on what you agree to. You need to understand clearly not only what your customer wants but also what they actually need. 
If what the customer asks for is unreasonable or impossible or very costly to deliver, then make that clear in your negotiations. Provide the necessary data, if necessary, to back up your position. You will often find that customers will be reasonable and adjust their SLA requirements when presented with the facts.
Ostendo Operations Software provides a straightforward framework for defining and tracking SLA requirements in the CRM module.
The CRM settings allow you to define multiple SLAs.


For each SLA you specify the Severity Levels that the customer has defined. For example: High, Medium, Low; or Critical, Normal, Low; etc…

For each Severity level you specify the key steps. For example: 
RESPOND to request  or Technician DESPATCHED
ONSITE (service person arrives onsite)
RESOLVED (problem is resolved).

For each Severity level and each Step you then spell out the required timings (in hours or minutes) and the target percentage.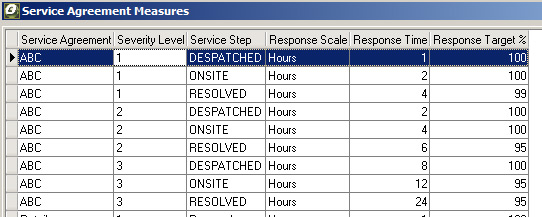 A Service Call ticket raised for the customer will automatically insert the relevant SLA requirements: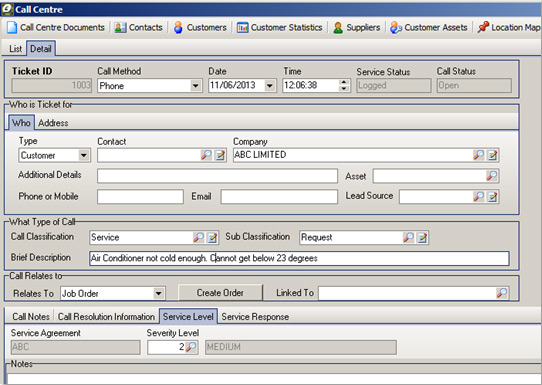 Service Coordinator can update the response times for each step as the Service job is progressed:


All the SLA data is captured in the Ostendo database. At the end of each month a report can be printed out for the customer detailing all jobs performed and the SLA measurements achieved. This may assist you to highlight the productivity gains the customer has enjoyed from doing business with your business.
With Ostendo, you can deliver your services in a professional manner to meet the ever increasing demands of the marketplace.