Inventory Re-Order Level
By having a realistic Re-Order Level you would not only ensure that you have enough stock when required but also that you do not overstock.
The Re-Order level is the point at which stock on a particular item has diminished to a point where it needs to be replenished. The Re-Order level takes into account the following:
The ongoing usage of the Item
The lag time between the point at which stock is ordered and the time in which it is delivered.
Optionally, a level of 'Safety Stock' to cover instances where the normal delivery leadtime has not been met.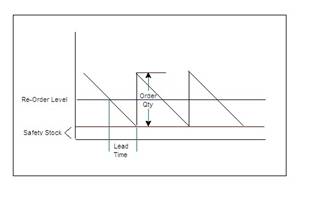 Looking at the above graph relating to Re-Order level. You can see the following have been included
Leadtime Usage. This is evaluated from the Leadtime (in days) multiplied by the Average Usage per day. In its simplest form this is the Re-Order Level. For example, Item ABC has a supply lead time of 7 days, with a usage of 50 per day would give a Re-Order Level of 7 days x 50 = 350 units.
Safety Stock. You may optionally wish to add 'Safety Stock' to cover instances where Supply orders are not received on time, or you would like to keep additional stock on hand for emergency situations. The Safety Stock can be a simple calculation such as having 2 days-worth of stock on hand at all times or a more complex calculation based on short-term future demand. By including Safety Stock the Re-Order Level would now be calculated from:
Re-Order Level = (Lead Time x Demand per Day) + Safety Stock
You should note that the Re-Order Quantity does not enter into this calculation as that quantity is based on other factors such as Holding and Ordering Costs. This parameter merely triggers an Ordering action based upon when the current stock has reduced to the Re-Order Level.